Meal planning can be such a daunting and intimidating task when you're getting started out. From watching your caloric intake, keeping an eye on your macros or even just trying to begin portion control, where do you start? How?  I have tips to make the whole process easier for you!
Here are my ten favourite ways to conquer meal prep like a pro.
1. PLAN YOUR MEALS.
Ok, this one is like … DUH … but how many of us (*raises own hand*) are guilty of wishing we were better at meal planning without, umm, actually trying to plan our meals?
It only takes a few minutes to sit down and write or type out a recipe list for the week. Start by adding any recipes you know you've been wanting to try and will require a little more grocery/effort planning and then I fill in the rest of the slots for the week with quick and easy recipes. Plan your macros/calories out using My Fitness Pal so you know what each portion works out to.  This is a bigger job so do it on an evening where you don't have anything planned and can relax watching your fave new Netflix show in the background while you do.  Once you have this jotted down it's easy to replicate each time after.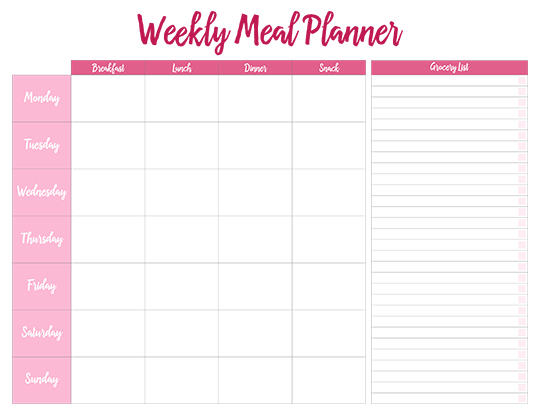 2. KEEP YOUR FAVOURITE RECIPES and TUPPERWARE ORGANIZED.
Meal planning goes much quicker when you've got an organized recipe catalog.
My favorite way to organize is with Pinterest or saving recipes I see online to my bookmarks. (If you haven't tried Pinterest yet, think of it like a virtual bulletin board where you can collect your favourite websites and organize them into categories).
I have one Pinterest board for recipes I want to try, and another board for recipes I've tried and loved.
When you're meal prepping and planning – you'll need Tupperware for portioning out your dishes.  So ensure that you have freezer friendly, good sturdy containers set aside to do so!
3. HAVE NEW RECIPES "DELIVERED."
Tried-and-true recipes are great, but when the repetition gets boring it's important to have a fresh source of recipe inspiration. Pinterest is a great way to find new recipes, but my personal favorite way to do this is to sign up for email updates from other fitness minded food bloggers. It's like a daily dose of tasty new food baked right into my morning routine!
I delete any emails with recipes that don't speak to me, and add any that pique my interest directly to my "recipes to try" folder. Then, when I sit down to meal plan, all the new ideas I've collected are right there waiting for me!
4. YOU DON'T HAVE TO DO EVERYTHING 100% FROM SCRATCH.
GASP! I know right? Isn't that the first thing that most fitness foodies say? Always from scratch?. Aren't we supposed to be all about that "I-make-everything-all-by-myself" lifestyle? I definitely avoid the preservative-heavy, over-processed stuff , but that doesn't mean I can't cut a few corners to save on my meal prep time. Personally, I almost always opt for pesto, nut butters, cut fruit/veg in trays, and even the occasional rotisserie chicken.
If you have a grocery store like Sobeys, you can also often find pre-chopped veggies in their prepared foods section. Our Sobeys slices and dices all kinds of fresh produce right on the produce floor, so it's just like prepping all your veggies right at home (except, umm, without the "prepping the veggies at home" part). Frozen produce is another great choice – many brands flash-freeze their veggies and fruits at harvest time, so they retain their freshness and nutritional content without being weighed down by preservatives like canned food is.
There's no shame in buying pre-diced onion, people! (Especially if it means the difference between making your own healthy dinner vs. heating up a can of Spaghetti-Os).
6. CHOOSE A FEW MAIN DISHES TO USE THROUGHOUT THE WEEK.
I'm a big fan of cooking one big batch of food that can be repurposed throughout the week. My favorite is a batch pulled chicken recipe with butter chicken rub spices– I whip up a batch on Sunday and toss it into salads, soups, wraps all week long.
Big batches of side dishes are also great to heat up throughout the week – I'll make a Greek salad add as a side and serve with different entrees on different days. Pair the salad with a grilled fish on Monday and an easy pork tenderloin on Thursday and you won't even notice the side.
7. MAKE EXTRA FOOD TO FREEZE.
The freezer is my meal planning BFF. When I'm cooking something that I know freezes well – like a veggie stir-fry or minced turkey-taco meat– I make a double or triple batch and put the extra servings in the freezer. Then, on extra-busy weeknights, you have homemade frozen food on hand to pop in the oven (WAY better than ordering takeout and easy to take along to work for lunches or after gym for your post-workout meal).
8. LEARN TO LOVE LEFTOVERS.
I wasn't much of a leftover person until a few years ago. I think it's because I don't love eating the EXACT SAME MEAL multiple times in a row.
But I broke the anti-leftovers habit when I started putting all my leftovers in the fridge in individual containers instead of one big pot or bowl. It seems simple, but there's something about heating up a pre-portioned scoop of riced cauliflower  (rather than scooping a serving out of a big block of leftovers in a pot, yuck) that makes me personally much more amenable to the whole "eating the same food again" thing.
9. KEEP SWAP-ABLE STAPLES ON HAND
A magical thing sometimes happens even when I've planned my menu down to the last detail: I CHANGE MY MIND.
When that happens, I try to appease my shifting taste buds by switching out any non-perishable pieces of a planned recipe (but leaving any veggies or fruits on the menu so they don't go bad).
Keeping staples like rice pasta, almond flour, brown/long grain rice, and other grains on hand means I can make on-the-fly changes quickly and easily without wasting anything.
For example, if I was planning on a veggie stir fry but don't feel like that anymore, I'll throw those same veggies into a quick rice-pasta dish with a bit of spices. Planning to cook spaghetti and meatballs but not in a noodle-y mood? Whip up a healthy cauliflower dough and turn the sauce and meatballs into a healthy pizza.
Having some delicious whey protein on hand can also make getting this important macronutrient in a breeze!
10. GIVE YOURSELF PERMISSION TO BE A MEAL PLANNING CHEATER.
You guys, you can have the best intentions and the fanciest checklists and the best-stocked fridge on the block, and sometimes, you still just want to get home and put on your  comfiest sweatpants and faceplant onto the couch and have a delivery person bring you a large pizza.
AND THAT'S OKAY.
If you're an obsessive planner, you can even build a "cheat day" wild card into your weekly meal plan – use your cheat day when you need to, and shift the rest of your schedule back a day so you're still eating all that tasty, fresh food you bought.
One meal won't make you healthy and one meal won't ruin your diet!
Warm regards,
Monika